Our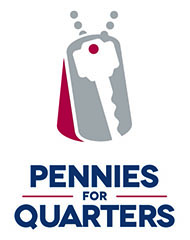 Washington location has been up and running for a year now. It has given our president, Courtney Nestler, time to build relationships within the Olympic Peninsula community. The company has a membership in the local BNI chapter and the Sequim-Dungeness Valley Chamber of Commerce. One of those relationships lead us to Pennies For Quarters, which is a local organization striving to build a tiny house community for homeless veterans in Clallam County.
Mission of Pennies For Quarters

There are resources in Clallam County for Veterans. Our mission is to create a community of 40 tiny houses for homeless Veterans who want to get their lives back on track and to facilitate access to these resources.  Allowing those that have placed their lives on the line for our nation, those that served honorably, in peacetime and in war, to be lost in the system is unacceptable. They deserve our respect and we are proud to offer our time and effort to help.
Courtney jumped on the chance to be a part of this cause. Bright Light Solutions will be providing social media marketing support for the organization for event promotion, awareness, building donations and supporters. The organization is currently seeking land to purchase for this project. Courtney hopes to build more awareness so the community will get more involved with supporting this organization.
The next big event for Pennies For Quarters is coming up on Friday, July 28th at the Naval Elks Lodge in Port Angeles. The event will feature live music by Black Diamond Junction along with a silent and live auction. Tickets to this event are through Brown Paper Tickets.